ADIPEC 2022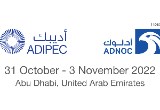 31 October 2022 - 03 November 2022
---
ADIPEC works with strategic partners, including the UAE Government and ADNOC, to provide a platform to showcase new products, solutions, technologies, innovations, capabilities from over 2,200 exhibiting companies from over 55 countries, including over 52 NOCs IOCs and IECs as well as 25 international country pavilions. In helping our partners and customers bring these to the marketplace, we are helping build pathways through the energy transition.
Energy markets are changing, driven by a set of micro and macroeconomic trends, transforming the way businesses operate and creating new pathways that drive innovation and sustainability.
It is against this backdrop that the ADIPEC 2022 conference programmes are shaped, providing both strategic and technical insights that gather over 1,200 global policy makers, energy CEOs and industry professionals to discuss key trends shaping the future of energy; what are the challenges and opportunities of the energy transition, geopolitical factors, new finance and partnership frameworks and the latest technical developments.
Taking place pre COP27, ADIPEC is positioned as the global forum for leaders to reinforce strategies and commitments that will drive the industry towards reducing emissions and meeting net-zero goals.